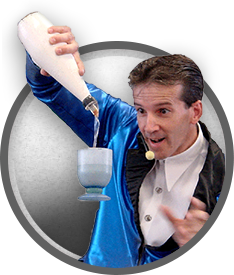 Max the Magician is a highly skilled & talented magician with a lot of experience in entertaining children. He has a really Cool Magic Show. More details below.
Comedy-based magic show using props acquired from all around the world.
Appearance of live dove.
Main focus on the guest of honour / birthday person.
birthday child receives a photo & card which is magically presented.
10 minute routine to music.
Every child receives a balloon animal and activity sheet.
20 children assist with the show.
Max performs for 1 hour.
45 minute magic show.
15 minutes of balloon modeling.
Age appropriate: 4 to 12 year olds.
It is possible for Max to cater for 150 – 200 children, if required, using his PA equipment. The show can be modified to suit different ages and repeat bookings.
Max has many different themes, for example:
Ben10, Harry Potter, Football, Pirate, Superhero, Star Wars, Space, Environment, Christmas.
If you give Max the Magician a couple of weeks notice he can theme some of his show to any topic.
Max also does close-up roving magic appropriate for adults.
When Max does his show for the older kids (10 years and above), he teaches them how to do some magic and also teaches them how to make their own balloon animals.
View Main Characters